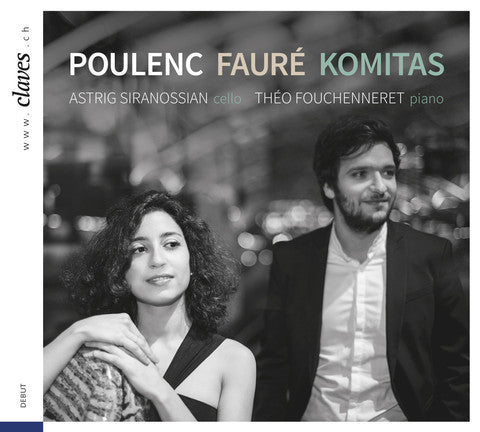 Music Web International: Review - Coup de coeur Piguet-Galland 2015, Cully Classique
At the end of last year, I
reviewed
a Chandos recording of Poulenc's concertante works for
piano
and
orchestra
, concluding that it was a matter of some regret that I had waited so long to explore his music. Thus, when this CD appeared on the review lists, I took the opportunity to extend my exploration.

Poulenc abandoned his sonata in 1940, lacking the inspiration to complete it, returning to it eight years later following encouragement from Pierre Fournier. It is typical Poulenc: beautiful melodies, jaunty rhythms, abrupt changes of direction. The second movement Cavatine is exceptionally beautiful and moving. Without being a staple of the repertoire, the work has accumulated in excess of twenty recordings. Thus, Siranossian and Fouchenneret have significant competition. Two all-French duos strike me as particularly relevant comparisons: Anne Gastinel and Claire Désert (Naïve – review) and Jean-Guihen Queyras and Alexandre Tharaud (Harmonia Mundi). Each provides something more in terms of characterisation in the faster sections than the Claves pair, the former refined, elegant and witty, the latter faster, more dramatic and almost wild in places.

There is even more competition in the Fauré pieces, comprising as they do a suitable CD filler for his two sonatas. Here, Siranossian and Fouchenneret are very good. The Hyperion recording of Alban Gerhardt and Cecile Licad (CDA67872) has not been reviewed here, but has been very well received elsewhere. Listening to what admittedly were only excerpts on the Hyperion site lead me to believe that the Claves duo do not lose anything in comparison.

The arrangements of thirteen of the songs of Komitas (real name Soghomon Gevorki Soghomonian) gives this recording a real point of difference. I could only find two other recordings with some of these songs in the cello & piano version. A Divine Art recording of Armenian music, including that of Komitas (also known as Gomidas) arranged for this combination has been reviewed on these pages. I have listened to some of the works in common between the two recordings, and feel that Siranossian and Fouchenneret reveal a much greater sense of the folk elements which are the source of this music. They are mostly melancholy in nature, but there is enough variation to maintain interest through to the jaunty final piece.
This is the debut CD for the two performers, each of whom is French. Astrig Siranossian is of Armenian origin, providing an obvious reason, if one were needed, for the choice of the Komitas arrangements. The pair have performed widely together and apart, and each has a competition win. Siranossian wrote the brief but sufficiently informative notes. The sound quality is very good. An imaginative selection of works and performances that are at least good, and in places very fine, make this a very promising start to their recording career.

David Barker
Komitas songs

Al Ailux [1:12]
Grunk [2:58]
Hov arek [2:00]
Garoun a [2:08]
Keler tsoler [2:39]
Yergink Ambel e [0:53]
Kélé kélé [0:49]
Alakiaz - khengui dzar [1:48]
Shogher djan [0:54]
Gakavik [0:45]
Tchinar ès [2:30]
Hoy Nazan [1:07]
Shaghker, Shughker [0:27]
Francis POULENC (1899-1963)
Cello sonata FP143 (1940/48) [22:31]
Gabriel FAURÉ (1845-1924)
Élégie, op. 24 [7:10]
Papillon, op. 77 [2:52]
Romance, op. 69 [3:22]
Sicilienne, op.78 [3:37]
Serenade, op. 98 [2:59]
KOMITAS (1869-1935)
Songs (arr. cello and piano) [20:10]
Astrig Siranossian (cello)
Théo Fouchenneret (piano)
rec. 2015, Studio Ernest Ansermet, Geneva, Switzerland
CLAVES 50-1604 [63:15]
Article source: David Barker - MusicWebInternational, March 2016
Find her first album here
Listen online
Spotify - iTunes - GooglePlay - Qobuz
Others related articles
Pizzicato.lu - Viel Klangpoesie, viel Energie
ResMusica: Poulenc, Fauré, Komitas sous l'archet d'Astrig Siranossian