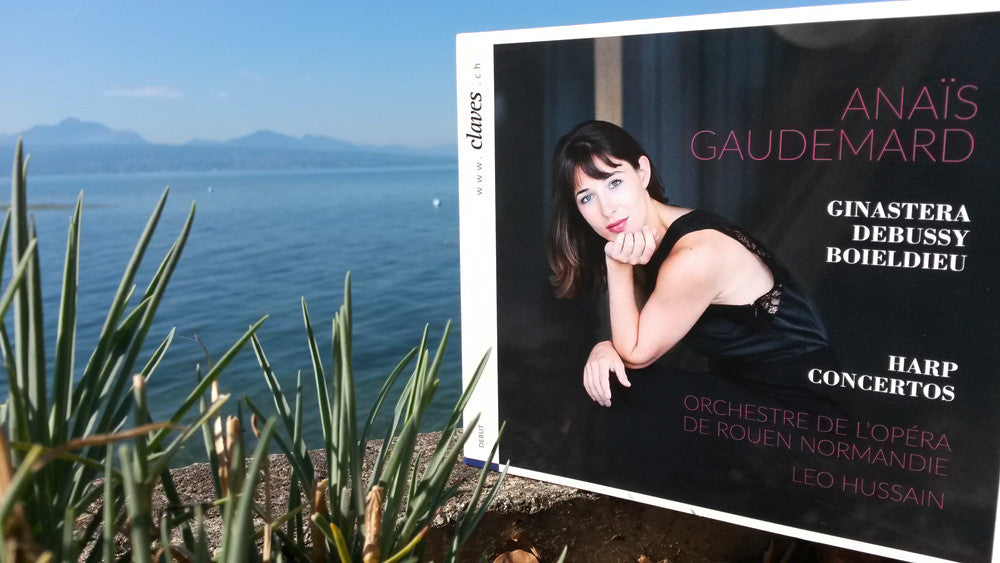 Photos: Anaïs Gaudemard, vue sur le Lac Léman
Bain de soleil avant l'envoi à la presse internationale du prochain album d'Anaïs Gaudemard et l'Orchestre de l'Opéra de Rouen-Normandie:
Harp Concertos, works of Ginastera, Boieldieu & Debussy - Anaïs Gaudemard & Orchestre de l'Opéra de Rouen Normandie
Official release date: 4 November 2016

Born in 1991, Anaïs Gaudemard studied at the Conservatoire National Supérieur de Musique in Lyon and is unanimously awarded with the congratulations of the jury in 2013, then she continued her studies at the Haute École de Musique in Lausanne where she obtained the Master of Arts specialized « Soloist » and the First Prize D.Jost in 2015.

In 2012, she wins the First Prize at the prestigious International Harp Contest in Israel, and the special award for the best interpretation of The Crown of Ariadne by Murray Schafer. Since then, Anaïs Gaudemard has the privilege to collaborate with orchestras such as the Lucerne Festival Orchestra, the Israel Philharmonic Orchestra, the Israel Symphony Orchestra, the Orchestre de Chambre de Lausanne, the Orchestre National de Lyon, Orchestre de l'Opéra de Rouen Normandie ; under the direction of Claudio Abbado, Leonard Slatkin, Kazushi Ono, Nir Kabaretti, Leo Hussain. She performs as soloist and gives master classes in China, Canada, Israel, Italy, Germany, Switzerland, Hungary, USA.

Concerned to share her instrument and to undo the prejudices which accompany the harp, she defends an extremely varied repertoire and her control of the contemporary music bring her to work with composers such as Philippe Hersant and Tristan Murail. Since 2014, she is laureate of the Fondation d'Entreprise Banque Populaire which grants her an award to pursue this commitment in creation and the command of works for the harp.

Her first CD for solo harp entitled "Dreams" is forthcoming on the Egan Records label.

Anaïs plays on a Style 23 Gold Concert Grand harp, offered by the harp maker Lyon and Healy, Chicago.

Photos (© 2016 Claves records S.A)
Watch the teaser here
Find her album on Claves.ch
Listen online (preorders)
Itunes: http://apple.co/22fYg4o
GooglePlay: http://bit.ly/1squ5uM
Qobuz: http://bit.ly/1OGCyEv
AmazonMp3: http://amzn.to/20VolZU
 Copyright © 2015 Miguel Bueno
Copyright © 2015 Miguel Bueno
Copyright © 2015 Miguel Bueno
Related collections
Anaïs Gaudemard
Claude Debussy
Concerto
Harp
Orchestra
Orchestre de l'Opéra de Rouen Normandie
Popular products
Pre-order
Releases 2015 - 2017
Soon