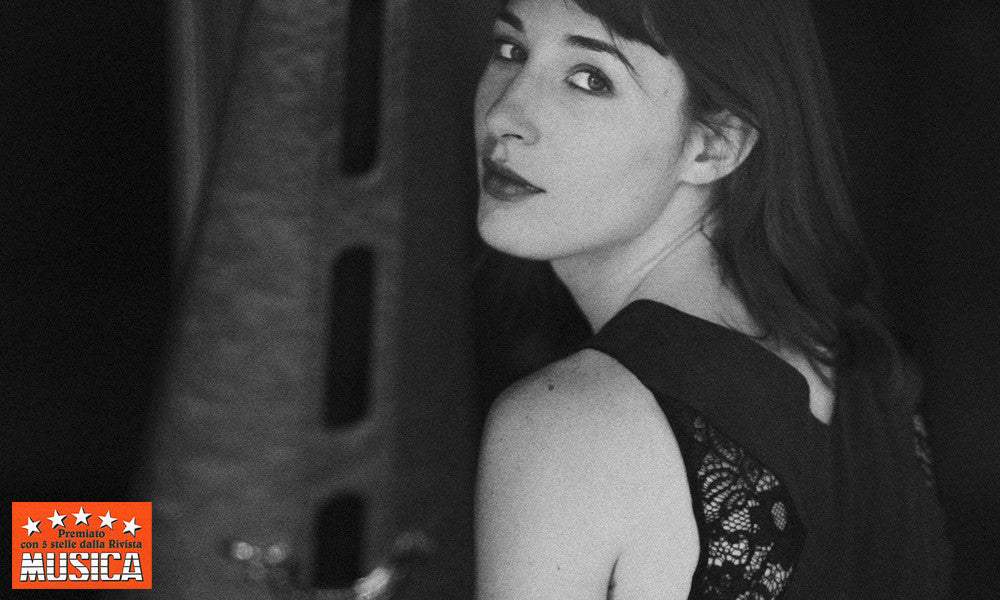 Musica: Award, 5 stelle pour le premier album avec orchestre d'Anaïs Gaudemard
Nous sommes fiers de vous annoncer que l'album "Harp Concertos" d'Anaïs Gaudemard avec l'Orchestre de l'opéra de Rouen Normandie a reçu en février 2017 la meilleure distinction du magazine italien Musica:
L'article
Per il suo esordio discografica con orchestra, l'arpista francese
Anaïs Gaudemard
ha scelto un repertorio assai eterogeneo che spazia, a ritroso nel tempo, dal Concerto per arpa e orchestra di
Alberto Ginastera
del 1956 alle
Deux danses pour harpe et orchestre à cordes
di
Claude Debussy
fino ad arrivare, con un salto temporale di un secolo, al
Concerto per arpa in do maggiore
di
François-Adrien Boïeldieu
, scritto nel 1800. Tre lavori fondamentali della letteratura per questo strumento, tre diversi periodi storici, tre stili di scrittura assai differenti, che permettono di apprezzare l'indiscussa bravura di questa giovane arpista, vincitrice nel 2012 del Primo Premio al prestigioso International Harp Contest di Tel Aviv, e prima arpa in importanti orchestre europee, come quella del Festival di Lucerna, la Symphonie-Orchester des Bayerischen Rundfunks, la Israel Philharmonic Orchestra, l'Orchestra da Camera di Losanna, sotto la direzione, tra gli altri, anche di Claudio Abbado.  
Il Concerto di Ginastera, eseguito per la prima volta nel 1965 da leggendario Nicanor Zabaleta, impegna l'esecutore con una scrittura molto lontana da quella tipica dell'arpa: attingendo a piene mani da quella decisa e spesso provocatoria dell'espressionismo novecentesco, richiede in più punti un virtuosismo e un'energia fuori dal comune sia all'orchestra che al solista. Quest'ultimo è impegnato in passaggi percussivi, in scansioni fortemente ritmiche di derivazione popolaresca, che mescolano in un mix di grande originalità lo stile barbarico bartókiano alle ascendenze del folklore argentino.  
Le Danses
di Debussy, composte nel 1904, nascono da commissione della ditta Pleyel, il cui direttore Gustave Lyon, cui l'opera e dedicata, aveva brevettato un'arpa cromatica senza pedali e dotata di due ordini di corde che includevano all' origine tutte le note. Con questo strumento Pleyel intendeva fare concorrenza all'arpa diatonica a pedali di cui Eìrard deteneva il monopolio. Il suo successo fu tuttavia effimero a causa delle difficolta di accordatura che esso poneva. La partitura di Debussy, pezzo di concorso della classe di arpa cromatica el Conservatorio di Bruxelles nel 1904, puòÌ tuttavia essere eseguita sull'arpa a pedali. La sua scrittura, dal sottile arcaismo e dalle tessiture chiare, non manca di evocare altri lavori arcaicizzanti di Debussy (le Danseuses de Delphes, le Chansons de Bilitis o la Tarentelle styrienne). Gli archi che l'accompagnano contribuiscono a creare un alone di sonorità trasparenti, ricche di fascino. Chiude la registrazione il Concerto per arpa di François-Adrien Boïeldieu, composto all'inizio della stagione romantica, ma con lo sguardo ancora rivolto alle galanterie di un Settecento ormai de definitivamente tramontato. Caratterizzata dalla grazia dei temi di evidente derivazione operistica - Boïeldieu rimane il principale compositore francese d'opera del primo quarto del XIX secolo - la composizione mette in luce una scrittura di classica compostezza ed un accorto bilanciamento tra le diafane sonorità dell'arpa e la corposità dell'orchestra.  
Ancora una volta si apprezzano le doti di virtuosismo e di grande eleganza di Anaïs Gaudemard, capace di passare con impeccabile gusto dall'espressionismo di Ginestera alle fragili filigrane settecentesche di Boïeldieu. 
L'Orchestra dell'Opéra de Rouen Normandie, diretta da Leo Hussain, non si limita, specie in Ginastera, al semplice accompagnamento, ma dispiega robuste sonorità e al contempo leggerezza per non oscurare la parte solistica.
Note de l'artiste
J'aime la harpe pour tout ce que l'on ignore d'elle, car elle est pour moi sans limite. J'invite l'auditeur à la découvrir au travers de trois œuvres qui sont parmi les plus belles pages écrites pour l'instrument et qui révèlent son large éventail sonore.
I love the harp because of all we ignore about it, as for me, it is a limitless instrument. I invite the listener to discover it with three pieces that count among the most beautiful works ever written for that instrument and that reveal its sound versatility.
Ich liebe die Harfe auf Grund all dessen, was man von ihr nicht kennt, denn für mich ist sie grenzenlos. Ich lade den Zuhörer ein, sie im Verlauf von drei Werken zu entdecken, die zu den schönsten Seiten gehören, die für dieses Instrument geschrieben wurden und die ihr weitgefächertes Klangspektrum offenbaren.
Bio
Née en 1991, Anaïs Gaudemard étudie au Conservatoire National Supérieur de Musique de Lyon dont elle sort récompensée d'un Premier Prix à l'Unanimité avec les Félicitations du Jury en 2013, et poursuit ses études à la Haute École de Musique de Lausanne où elle obtient le Master Spécialisé Soliste ainsi que le Premier Prix Jost en 2015. 
En 2012, elle remporte le 1er Prix du prestigieux Concours International d'Israël ainsi que le Prix Spécial pour la meilleure interprétation de l'oeuvre The Crown of Ariadne de Murray Schafer pour harpiste jouant percussion. Anaïs Gaudemard a ainsi le privilège de collaborer avec des orchestres tels que le Lucerne Festival Orchestra, l'Orchestre Philharmonique d'Israël, l'Orchestre Symphonique d'Israël, l'Orchestre de Chambre de Lausanne, l'Orchestre National de Lyon, l'Orchestre de l'Opéra de Rouen Normandie; sous la direction de Claudio Abbado, Leonard Slatkin, Kazushi Ono, Nir Kabaretti, Leo Hussain. 
Elle est invitée à se produire en tant que soliste ainsi qu'à donner des master-class en Chine, Israël, Italie, Allemagne, Suisse, Hongrie, Etats-Unis, Canada, …
Soucieuse de faire connaître son instrument et de défaire les préjugés qui l'accompagnent, elle défend un répertoire très varié et sa maitrise de la musique contemporaine la conduit à travailler auprès de compositeurs tels que Philippe Hersant et Tristan Murail. Depuis 2014, elle est lauréate de la Fondation d'Entreprise Banque Populaire qui lui octroie une bourse afin de poursuivre cet engagement dans la création et la commande d'oeuvres pour harpe. 
Son premier disque pour harpe seule intitulé « Dreams » est à paraître prochainement sur le label Egan Records. 
Anaïs joue sur une harpe Style 23 Gold, offerte par la maison Lyon & Healy, Chicago. 
Son album avec l'Orchestre de l'Opéra de Rouen Normandie (livraison Worldwide)
Trouvez-le en ligne
iTunes
GooglePlay
AmazonMp3Deezer
Qobuz
Spotify
Napster
Presto Classical
HD music
Les vidéos
#ARD2016 Munich