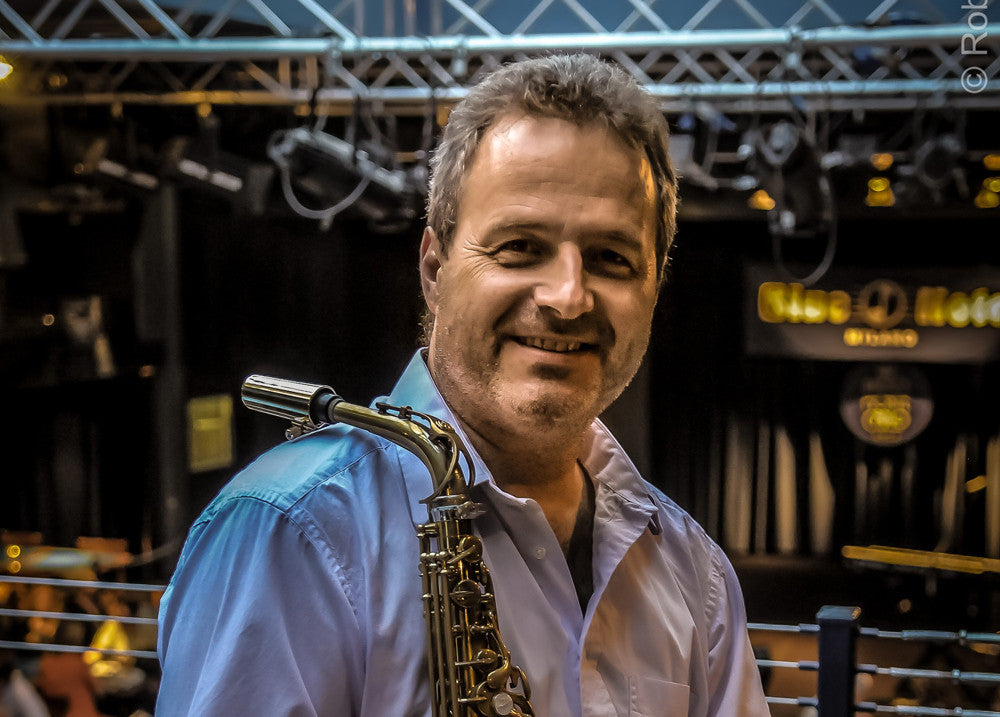 HEMU: « Les étudiants, collègues et amis, se rappellent unanimement cet amour de la musique et du jazz en particulier. »
HOMMAGE A GEORGE ROBERT DIRECTEUR DU DÉPARTEMENT JAZZ DE LA HAUTE ECOLE DE MUSIQUE DE LAUSANNE 2006 À 2016 DÉCÉDÉ LE 14 MARS 2016
Il y a dix ans, George Robert prenait les rênes du département jazz de l'HEMU avec toute l'énergie que cette tâche nécessitait. Aujourd'hui, à 55 ans, celui qui a mené le département à son niveau actuel d'excellence et de reconnaissance, a rejoint Phil Woods, Sam Woodyard, Clark Terry et bien d'autres de ses camarades et mentors au paradis des talents.
Musicien pluridisciplinaire, compositeur, arrangeur, leader, professeur, George coiffait avec talent toutes ces casquettes à la fois. Mais, avant tout, c'était un Passionné. Les étudiants, collègues et amis qui ont eu la chance de le côtoyer ou de se lier d'amitié avec lui, se rappellent unanimement cet amour de la musique et du jazz en particulier. Cet attachement musical le guidait dans son quotidien et l'a aidé à se battre contre les longues années de maladie. On relèvera également la présence forte de la notion de partage qu'il appliquait à son quotidien. Partager ses connaissances, mais aussi ses expériences et ses contacts. Il n'a d'ailleurs pas hésité à faire bénéficier notre institution et ses étudiants de son fameux carnet d'adresses qu'il s'est constitué durant ses 25 ans de carrière, notamment aux Etats-Unis où celle-ci a démarré en 1984 alors qu'il venait d'être diplômé d'un Master de la Manhattan School de New-York. Il était alors le premier musicien suisse à s'afficher avec les grands noms du jazz américain.

A côté d'une carrière extrêmement riche en représentations live et enregistrements – il est monté sur les scènes des plus grands festivals et a produit plus de 25 albums à son nom – cet éternel performeur a largement contribué en tant que directeur à la reconnaissance de l'enseignement du jazz, son objectif permanent, presque obsessionnel. La transmission de ses connaissances et de son savoir, voilà encore une valeur noble qui le caractérisait.
Le jazzman suisse, de renommée internationale qu'il était, avait notamment été cité par le Jazz Times comme l'auteur de l'un des cinq meilleurs albums de jazz en 1997. Il a également été récompensé du Prix de la Fondation Suisa pour la musique en 2003 et consacré Officier de l'Ordre des Arts et des Lettres en 2009 par la République française pour l'ensemble de sa carrière musicale, preuve de son intense rayonnement. Membre du Conseil Suisse de la Musique, de l'International Association of Jazz Education et de l'International Association of Schools of Jazz, l'enseignement se basait pour lui sur l'apprentissage de la réappropriation des « standards », qui ne pouvait avoir de succès qu'en priorisant la pratique.
Un exercice d'autant plus efficace qu'il se pratiquait au contact d'autres musiciens, souvent plus âgés, mais aussi de ceux de sa génération : «le plus important pour se faire connaître est de jouer», aimait-il à répéter. Si l'on devait évoquer un seul souvenir de son aventure à l'HEMU, c'est sans nul doute ce somptueux concert avec son ami de longue date Michel Legrand, dirigeant ses plus belles musiques de films avec l'Orchestre symphonique et le big band de l'HEMU (avec George Robert au sax !), devant une salle Métropole bondée.
Même si George avait le regard porté vers l'avenir, il était indéniablement habité par une certaine nostalgie, celle qui a guidé ses goûts musicaux. Il avait par ailleurs une conscience très précise des fondements historiques du jazz et tenait en tout temps à leur rendre hommage. Lors de sa première hospitalisation, c'est l'intégrale des œuvres orchestrales de Debussy et Ravel qu'il avait demandé à ses collègues...

A l'heure où les musiques actuelles font leur entrée à l'HEMU, on peut se rappeler les mots toujours actuels que tenaient George, en 2006, à propos de la cohabitation de la musique classique et du jazz au sein de notre haute école : « Le musicien de demain se doit d'être polyvalent, il doit écouter beaucoup de musique, et des musiques différentes, il doit être ouvert et tolérant. Les préjugés basés sur l'ignorance n'ont plus leur place aujourd'hui. » Ces mots résonnent entre les murs du bâtiment de l'HEMU, au Flon, et laisseront entendre encore longtemps une musique douce et entraînante dans l'ensemble de notre institution.
« Les étudiants, collègues et amis, se rappellent unanimement cet amour de la musique et du jazz en  particulier. »
Source de l'article: Conservatoire de Lausanne - Nuances N°51
Retrouvez son album "George Robert plays Michel Legrand" ici
Commandez-le en ligne
iTunes: http://apple.co/26TKeZR
Qobuz: http://bit.ly/1SMMzzT
AmazonMp3: https://goo.gl/Ti44bn
AllMusic: http://bit.ly/1ZT9GcR
Retrouvez son album sur Spotify
Plus d'articles sur George Robert
Sa discographie: http://www.georgerobert.com/#discography