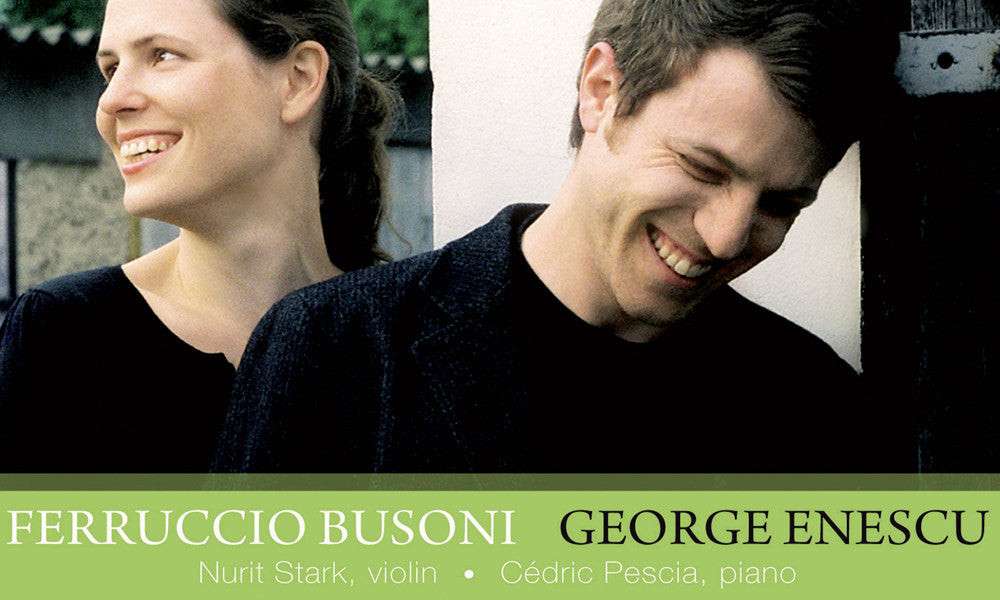 Gramophone (UK): Busoni; Enescu Violin Sonatas, Cédric Pescia et Nurit Stark
Enescu's early string Octet (completed 1900) displays a dizzying mixture of qualities – exuberance, busyness, contrapuntal complexity, thematic richness and a sweep that suggests a burgeoning creative talent on a roll. I'm often reminded of the young Korngold save that the teenage Enescu's more prolix style makes for longer musical sentences and, in general, more leisurely arguments. The 12-minute first movement is architecturally imposing, with solo instruments or small groups engaging with the full ensemble, a principle that presumably prompted Lawrence Foster to prepare this string-orchestra arrangement. The effect more resembles the big-band version of Schoenberg's Verklärte Nacht than, say, Mendelssohn's Octet played by a full compliment of strings, which is straightforwardly augmented. Foster capitalises on the music's shifting perspectives, whether manifest or implied, and if you compare the first couple of minutes of this version with a recording of the octet original you'll note how effectively Foster underlines the music's dialogic element, solo and tutti alternating in the manner of a concerto grosso, except that in this case the paragraphs are that much longer. Foster's performance is a very good one and the recording focuses the fine Monte Carlo strings with admirable clarity, especially in the wildly assertive second movement, music that anticipates both Martinu and Honegger. In short, a successful venture but to keep things in perspective I would strongly recommend you also hear the Octet as originally written. It leaves a quite different impression.
I recently reviewed Remus Azoitei's excellent version of the Third Violin Sonata (Hänssler, 2/09). I commented then on how Azoitei's approach echoed Enescu's own though in that respect Sherban Lupu (Electrecord, 8/01) comes even closer. Valery Sokolov relates more to the music's rhapsodising romanticism than to its numerous folk-like inflections, an approach that's nicely leavened by the nimble, lightly despatched piano playing of Svetlana Kosenko. Nurit Stark's recording for Claves is a comparatively sultry affair, melancholic in spirit, often sensual and with a more pronounced use of glissandi. Her pianist, Cédric Pescia, sounds more spontaneously improvisational than Kosenko, the effect at times verging on impressionistic, although the two sets of tempi are similar. I slightly prefer the tautness of Sokolov and Kosenko but Stark and Pescia make a fine job of Busoni's masterly and extremely expansive Second Sonata, a work that's far more grounded in the worlds of Beethoven and Brahms with Bach providing the theme for the variations second movement. Stark and Prescia are a fair match for Frank Peter Zimmermann and Enrico Pace (Sony, 7/06), whose memorable recording of the Sonata is rather more usefully coupled with Busoni's equally absorbing (and accessible) Violin Concerto. The choice I suppose is down to couplings, but you can't really go wrong with either.
Find this album by Claves
Streaming / Download
iTunes
GooglePlay
Deezer
Spotify
Naxos
High-Resolution
Awards
The videos
All the videos of Cédric Pescia
All his albums with Claves records