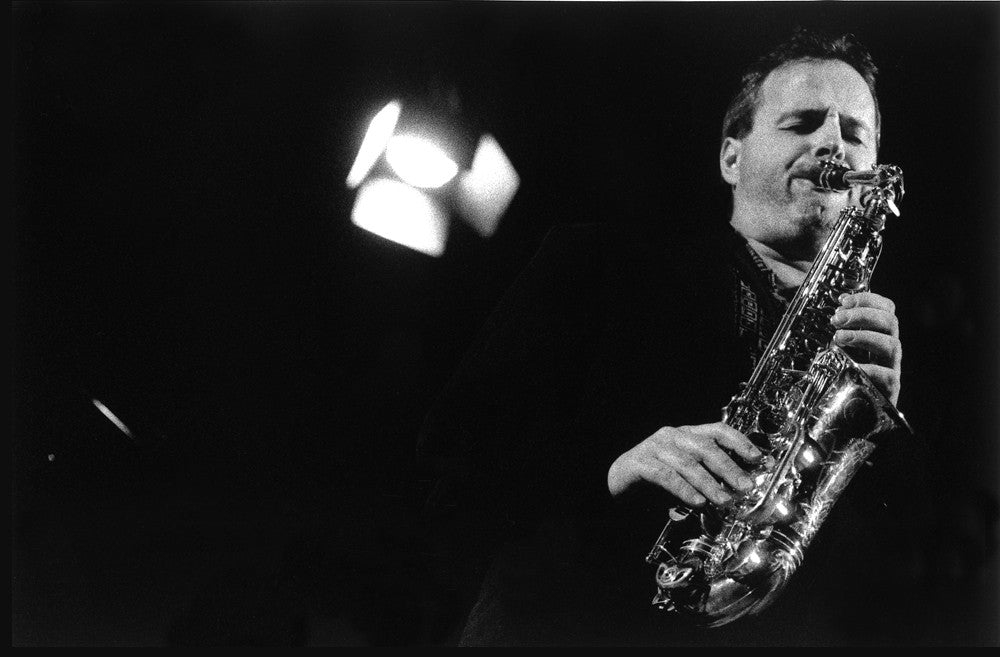 A jazz listener's thoughts: Qui est George Robert?
George Robert is a terrific saxophonist and Director of the Jazz Department at the University of Applied Science Western Switzerland in Lausanne. Born in 1960 in Switzerland, he began his musical studies at a young age and by nine was enrolled at the Conservatoire de Musique in Geneva, where he studied clarinet. At 20, he enrolled at the Berklee College of Music and studied alto saxophone, graduating in 1984 with a Bachelor of Arts in Jazz Composition & Arranging Magna cum Laude. He stayed on in New York and in 1985 received a full scholarship to study at the Manhattan School of Music where he played lead alto.  In 1987 he earned a Master of Music in Jazz Performance at the Manhattan School of Music. In addition to free-lancing with such notables as Billy Hart, Buster Williams, the Lionel Hampton Big Band, and the Toshiko Akiyoshi-Lew Tabackin Jazz Orchestra, he formed the George Robert Quartet which earned the Down Beat Award for Outstanding Performance and was invited to perform on the main stage of the 1984 Montreux Jazz Festival.
In 1987 he formed the George Robert-Tom Harrell Quintet, a group from 1987 to 1992 that  recorded five albums. He later moved to Canada, and toured that country as well as the world with his quartet, featuring  Dado Moroni, Isla Eckinger and Peter Schmidlin.  
In 1995 George was chosen as Director of the Swiss Jazz School and returned home to lead the program for the next 11 years.  In 2003 he founded the Swiss Jazz Orchestra and earned the Suisse Foundation Award for his outstanding international career. He also toured with Phil Woods during that period and recorded several CDs with him.

He has had a long-lasting musical partnership with Kenny Barron and has toured Europe with him and together they have a number of recordings. In 2006 George moved to Lausanne and was hired as Director of the newly-created Haute Ecole de Musique de Lausanne which has the only jazz department in the University of Applied Sciences of Western Switzerland (HES-SO), the largest university in the country.  In 2009 he was honored by the French government and received the medal of Officer in the Order of Arts and Letters, in recognition for his outstanding international musical career.

Throughout his career Robert  has recorded well over fifty albums as a leader and performed with a who's who of modern jazz: Toshiko Akiyoshi, Jeff Ballard, Kenny Barron, Giani Basso, George Benson, Jerry Bergonzi, Randy Brecker, Brian Bromberg, Ray Brown, Terri Lyne Carrington, Bill Charlap, John Clayton, Jimmy Cobb, Billy Cobham, Chick Corea, Eddie Daniels, Jesse Davis, Joey DeFrancesco, Paquito D'Rivera, Billy Drummond,  Jon Faddis,  Paolo Fresu, Hal Galper, Benny Green, Larry Grenadier, Johnny Griffin,  George Gruntz, Charlie Haden, Jeff Hamilton, Lionel Hampton, Slide Hampton, Tom Harrell, Billy Hart, Louis Hayes, Jimmy Heath, Fred Hersch, Billy Higgins,  Daniel Humair, Hank Jones, Lee Konitz, Diana Krall, Michel Legrand, John Lewis, Dave Liebman, Joe Lovano, Russell Malone, Phil Markowitz, Cecil McBee, Ron McClure, Bobby McFerrin, Jim McNeely, Bob Mintzer, James Moody, Dado Moroni, Lewis Nash, Adam Nussbaum,  Nicolas Payton, Alvin Queen, Rufus Reid, Alex Riel, Claudio Roditi, Renee Rosnes, Wallace Roney, Arturo Sandoval, Bud Shank, Lew Tabackin, Clark Terry, Toots Thielemans, Steve Turre, Mads Vinding, Kenny Washington, Peter Washington, Frank Wess, Buster Williams, Jimmy Woode, Phil Woods, and many others.

So why is he largely unknown in the United States? Most likely becuase his CDs as a leader have been on European labels like TCB, Mons, and GPR so they are not well-publicized here. He first came to my attention a few years ago with the CD..


Read this full article on: http://ajazzlistenersthoughts.blogspot.ch
Article source: http://ajazzlistenersthoughts.blogspot.ch - Monday, April 29, 2013
Find his last album with Claves