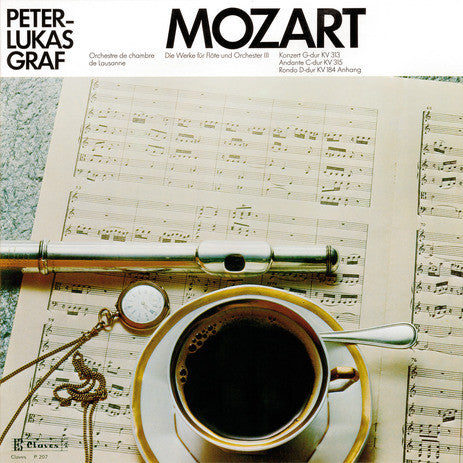 Claves remastering
This old vinyl version of this production is now available on Youtube. Peter-Lukas Graf (Flute & Conductor) with Orchestre de chambre de Lausanne.
Description
This recording inaugurates a new historical series by Claves called "Revival", consisting of about fifty albums that have never been published as CDs; carefully remasterised, the recordings represent the firm's initial years, from its creation in Thun in 1968. The whole product is 100% Swiss, the vinyls being made in Riedikon by the legendary company Turicaphon AG, still active to this day. The aim of this collection is to make the whole Claves catalogue accessible to the public, in due course, according to the wishes of Marguerite Dütschler, founder of the Label.
Vevey, summer 1969: while the Americans were about to walk on the moon, Peter-Lukas Graf was recording his first orchestral album, playing the double role of conductor and soloist. The Lausanne Chamber Orchestra, founded by Victor Desarzens in 1942, was present, as was one of the pillars of Claves, sound engineer and singer Jakob Stämpfli.
Vevey 1969 was also the era of Charlie Chaplin or James Mason, whom one was likely to meet at the Saturday market, tenor Hugues Cuénod who had just turned 67 (he lived on to 108 years…), the trilogy of the spouses of the great Maestros Furtwängler, Krips & Schuricht, or the painter Oskar Kokoschka.
Recorded in the perfect acoustics of the Salle del Castillo (also known as the "Casino de Vevey") with its ideal Schuhenbox shape, this Mozart programme won the most prestigious Japanese disc prize ever, the Japan Record Academy.
Watch it on Youtube: