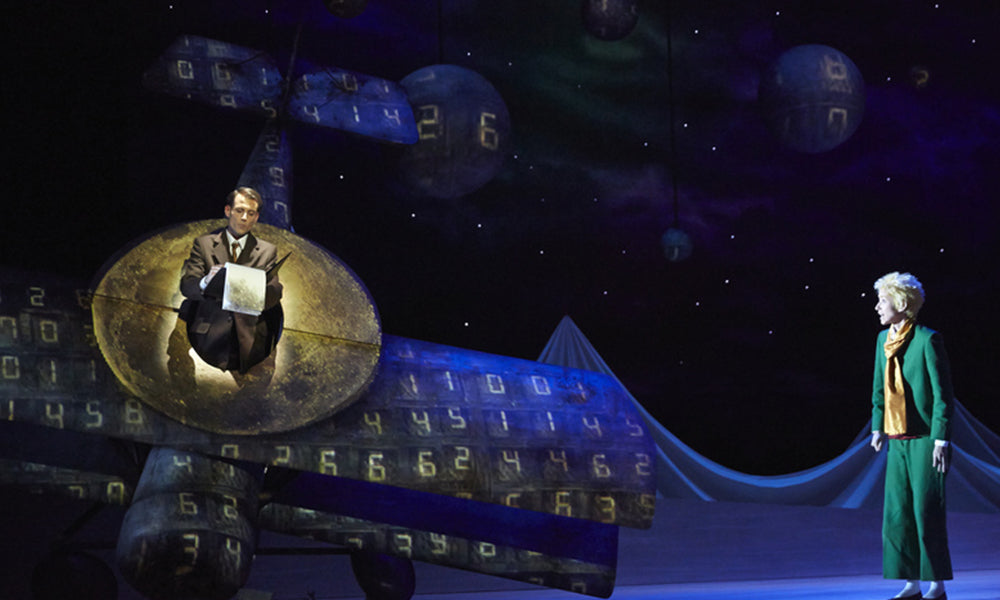 Music Web International: Levinas, Le Petit Prince
Antoine de Saint-Exupéry's work Le Petit Prince (The Little Prince) has enchanted and perhaps disturbed its readers, whether young or not so young, since its first appearance in 1943. Voted as the 'Best Book of the 20th Century' by the French public it has been animated, turned into ballet, dramatized, made into television and cinematic movies; there is even Le Petit Prince shop in Paris. (What would its author make of this 'franchising'?) But how does one categorise it – novella, children's story, fable, art-work, philosophical tract, Freudian self-analysis? I suppose, depending on the individual reader, it could encompass all or none of these descriptors. I re-read it for the first time in maybe 30 years as groundwork for this review - inevitably I found it more profoundly affecting than I did when I was in my twenties. For me two features have certainly endured; its amazing economy of expression; and probably its central and most important message: that we are all essentially blind and can only see the 'essence' of things with the heart.

If nothing else Michaël Levinas's operatic treatment presents a real challenge to listeners from any age group. As far as I'm aware, the only other attempt at turning it into musical drama came from Rachel Portman in 1993. This was recorded for BBC Television in 1994. It is unpretentious, tuneful and immediately appealing and available on YouTube. (You can see it here.) It is an entirely different animal to the new work. Levinas may be an unfamiliar name to readers. He has pursued a dual career as pianist and composer. As a pianist he has recorded Beethoven's 32 Piano Sonatas for Accord. He studied composition with Messiaen and apart from his instrumental and electroacoustic output he has composed operas - Go-gol (1996) based on Gogol's short stories and Les Nègres after Genet (2003)

I suppose the first question regarding this treatment of Le Petit Prince concerns its suitability for a younger audience. Levinas makes it pretty clear that this is intended as an opera for children as much as for adults. (Publicity materials released for productions in France and Switzerland confirm as much) But the musical language employed throughout offers few compromises in terms of accessibility. Immediate 'tunes' are few and far between, but they are there – towards the end of the work a couple of scenes at least embody the spirit of playground games, catches or nursery rhymes. Levinas's style is broadly spectralist; sinuous woodwind lines weave their lonely (often descending) journeys against a backdrop of electronically manipulated keyboards, sometimes coalescing with each other; the individual characters emerge clearly from this sound picture, sometimes in dialogue. There is no chorus. At the beginning the pre-recorded spoken voice of the aviator (echoing Saint-Exupéry's introduction) recalls his doomed childhood attempts at drawing and his original encounter with the Little Prince after his desert accident. The accompaniment here is extraordinary – dominated by what sounds like electronically manipulated winds and keyboards mimicking the sounds of failing aeroplanes. (I suspect IRCAM had some sort of input here – Levinas has certainly worked there in the past.) The effect is beautiful, haunting and scary simultaneously. Thereafter the singers take over.

It is fortunate indeed for this reviewer that there is a very brief clip on YouTube of the 2014 Geneva production - it's a compilation of tiny excerpts of each character from Levinas's work - you can see it here (and at least see how the opera is meant to look; to my eyes it's very faithful to the spirit of the book, visually beguiling and vivacious. It's certainly visually appealing for children…). I say fortunate – I really mean essential, as there isn't a whiff of libretto, translation or even a synopsis in the Claves package. There's a dull interview with the composer and some stills and that's it. I think with a grasp of the story it's just possible to work out what's going on, but the clip enabled me to make a bit more sense of it. I really cannot understand why the record company can't provide the minimum required documentation – even a website link (à la Naxos) would be something. Could there be a copyright issue? Either way it's unsatisfactory. The diction of all the singers is remarkably clear which certainly helps a listener with a basic level of French keep up. But for those without this I suspect it would be something of a struggle.

As for the performances the soprano Jeanne Crousaud is quite superb as the title character. In this role her voice imparts a boy-like quality, ethereal on the one hand but conveying the gnomic wisdom of a savant more than the innocence of childhood. The whoops and slides involved make the part challenging in the extreme. The other main role of The Aviator is taken by the tenor Vincent Lièvre-Picard, who provides a solid foil for The Prince. The stand-out supporting performance comes from the counter-tenor Rodrigo Ferreira who doubles up in the key roles of the devious Snake and the wise Fox. The other singers perform their briefer, cameo-like roles gamely, and carry the narrative along without any sign of sagging.

As for the music itself, Levinas coaxes some beguiling sounds from the small orchestra. There are tangy and other-worldly hints of cimbalom throughout the first act, while elsewhere the score seems to invoke the classical French opera of a bygone era. There is an important part for the 'tubax' – a kind of modified baritone or bass saxophone, played here by Serge Bertocchi. L'Orchestre de Picardie may have a regional sounding name, but they are more than equal to the composer's considerable technical demands, and the experienced Dutch conductor Arie van Beek harnesses a richly expressive performance. The pared-down ending is unforgettably moving, a prime example of less becoming more.

Repeated listens ultimately reveal Le Petit Prince to be less forbidding than it seems at first hearing. Children who attended the opera may well have only had the one opportunity and notwithstanding its obvious visual pyrotechnics may well have been completely bemused by the musical language. I know from experience that this kind of thing can create real aesthetic confusion in the young. I remember taking my then five-year-old daughter to hear the Brodsky Quartet play Berg's Lyric Suite. I still don't know how she managed to get through the performance without screaming. In fact she only forgave me, when I took her to see New Order six years later - and that's the 'first gig' she really remembers. I suspect that Levinas's Le Petit Prince was one of those experiences, where the children in the audience actually relied more on their eyes than their hearts (or their ears). On the other hand, maybe it's unfair to be so condescending. As an adult, I loved the music, and as Saint-Exupèry would have been quick to point out, I was a child once upon a time.
Article source: Music Web International, by Richard Hanlon, October 2017
Photos
Online
iTunes
Spotify
Qobuz
Amazon
Google
HR Music
Pro Studio Masters
HD-Tracks
Technics Tracks
7Digital
Links
More articles about this release
Collections
Arie van Beek
Michaël Levinas
Modern
New releases
Opera vocal
Popular products
Rarities
Youtube